In 2014 we unveiled a new logo, one that honors our history while presenting a modern take on the classic ACTC skyline design.
A New Logo
Bringing our roots…
Our "old" skyline logo was rooted in our schools' identities: specifically, in the architecture of each campus's iconic buildings. The logo artist identified signature buildings on each campus and sketched key architectural features like steeples and roof peaks; stylized them to be uniform; and filled in a skyline around these buildings. Thus the logo represented the importance of ACTC's five campuses and our shared urban environment.

…into our present
The skyline demonstrates ACTC's commitment to celebrate the urban liberal arts experience that unites our schools. Rather than mimicking our regional or campus skylines, the new logo hides the outline of our acronym: ACTC. (See the hint of the flat tops of the A and T, and the curve of the Cs?)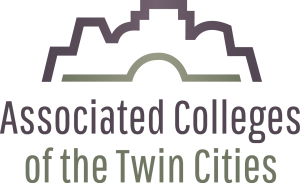 The arch—or the bridge—beneath the skyline brings the river into our identity. Geographically speaking, the midpoint between all five ACTC schools lies in the Mississippi River. The river is also central to our Twin Cities community, representing the priorities of sustainability and livability held by our schools and demonstrated through our work.
The earthy green and purple communicate the warmth and openness that characterizes our collaborative spirit, as well as the groundedness of our work and the importance we place on sustainability, livability, and longevity for our campuses and for our broader community.
The typeface used for our name—Pathway Gothic One—is light and contemporary, while small touches like the style of the G are reminiscent of the more classic typefaces commonly used in college and university seals.