Tuesday, April 14 | 7:00 p.m. | Hamline University
Klas Center, Kay Fredericks Room, 3rd Floor
Pushcart Prize-winning author Kevin Moffett will give a public reading on Tuesday, April 14 at 7:00 p.m. at Hamline. The event will be held in the Kay Fredericks Room and is free and open to the public.
About Kevin Moffett: April 14, 2015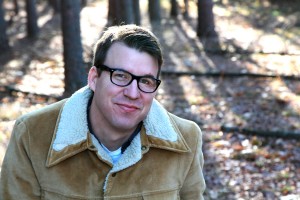 Kevin Moffett is the author of two story collections, Permanent Visitors, which won the John Simmons Short Fiction Award, and Further Interpretations of Real-Life Events.  He has received the National Magazine Award, the Nelson Algren Award, the Pushcart Prize, and a literature fellowship from the National Endowment of the Arts. The Silent History, a collaborative multi-part narrative he's written with Matt Derby and Eli Horowitz, was released as an app for mobile devices in 2012, and in book form from FSG in 2014.
He is a frequent contributor to McSweeney's and his stories and essays have appeared in Tin House, the Harvard Review, American Short Fiction, the Chicago Tribune, the Believer, A Public Space, and in three editions of The Best American Short Stories (2006, 2009, and 2010).
Learn more about Kevin at www.kevinmoffett.org.
Location & Parking Info
The reading will be held in the Kay Fredericks Room (Klas Center third floor). View a campus map.
Paid visitor parking is available in the Anderson Center underground ramp. Street parking is also available east and south of campus.