Pushcart Prize-winning poet Aimee Nezhukumatathil will give a public reading at the University of St. Thomas on Monday, October 14 at 7:30 PM. The reading will be held in the Anderson Student Center, Woulfe Hall North and is free and open to the public.
About Aimee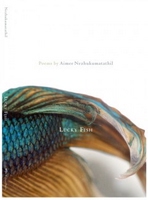 Aimee is the author of three poetry collections: LUCKY FISH, winner of the gold medal in Poetry from the Independent Publisher Book Awards and the Eric Hoffer Grand Prize for Independent Books; AT THE DRIVE-IN VOLCANO, winner of the Balcones Prize; and MIRACLE FRUIT, winner of the Tupelo Press Prize, ForeWord Magazine's Book of the Year Award, the Global Filipino Award and a finalist for The Glasgow Prize and the Asian American Literary Award. Her first chapbook, FISHBONE, won the Snail's Pace Press Prize.
Recent honors include a poetry fellowship from the National Endowment for the Arts and the Pushcart Prize. Nezhukumatathil also received SUNY-Fredonia's Hagan Award and the SUNY-wide Chancellor's Award for excellence in scholarship and creative activities. Aimee Nezhukumatathil is associate professor of English at State University of New York-Fredonia, where she teaches creative writing and environmental literature.
Learn more about Aimee online.
 "You could say that this charming and buoyant book is "about" a lot of things—finding a home, love—but really, these poems point toward the importance of attentiveness as a path to joy, however fragile. And while the poems are lucid enough that even the most inexperienced poetry reader would find pleasure in them, they are, like joy itself, anything but predictable or simple."
–Orion