Kate Moses, recipient of the 2012 Lannan Literary Fellowship, will give a public reading at St. Catherine University on Tuesday, October 8 at 7:00 PM. The reading will be held in the Visual Art Building, located on the north side of campus. The event is free and open to the public.
About Kate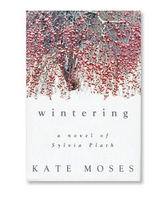 Kate has worked as an editor at Berkeley's acclaimed North Point Press and as literary director of Intersection for the Arts in San Francisco. In 1997 she teamed up with journalist Camille Peri to found Salon.com's popular daily website Mothers Who Think, which in turn inspired the nationally bestselling, American Book Award-winning anthology Mothers Who Think: Tales of Real-Life Parenthood and Because I Said So: 33 Mothers Write About Children, Sex, Men, Aging, Faith, Race & Themselves.
In 2003 her first novel, Wintering: A Novel of Sylvia Plath was published to international acclaim. Translated into fifteen languages, Wintering received the Janet Heidinger Kafka Prize and a Prix des Lectrices de Elle in France. Her latest book is Cakewalk, A Memoir, the result of a lifelong love of sugar and stories.Cakewalk was a finalist for the 2011 Bay Area Book Reviewers Award for Creative Nonfiction.
Kate is a contributor to several anthologies, including Bad Girls: 26 Writers Misbehave, The Unraveling Archive: Essays on Sylvia Plath, The Salon.com Reader's Guide to Contemporary Authors, and Words Rising: An Anthology of American Food Writing. She has been a MacDowell Fellow, an Affiliate Artist at Headlands Center for the Arts, the recipient of an Everett Helm Research Fellowship from the Lilly Library at Indiana University, and in 2012 received a Lannan Literary Fellowship.
Learn more about Kate online.