Sarah Hunter,
Hamline Class of 2011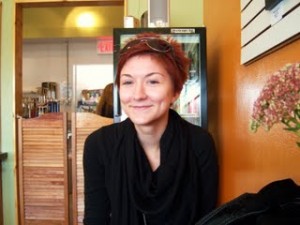 By Lewis Mundt, Hamline CLA '12
These days, women's studies alumna Sarah Hunter finds herself trekking the classrooms and shelves as a library sciences student at Simmons College in Boston, Massachusetts. I gave Sarah a few calls and an email after she finished her first semester of graduate finals in the fall of 2011, and asked a few questions about her program, her time in Boston, and how her time as a women's studies student has affected where she is now.
What did you study as an undergraduate?
I majored in Women's Studies. I minored in Communication Studies, Creative Writing, and Religion.
And what program are you enrolled in currently?
I am in the Library and Information Sciences graduate program at Simmons College in Boston, Massachusetts. My estimated graduation date is May 2013.
What sorts of organizations were you involved in at Hamline, and how were you involved?
For four years I worked in the Women's Resource Center. This included staffing the office, planning social and education events, raising money, and collaborating with other campus organizations. I was a member of Triota, the Women's Studies Honor Society. I also interned at NARAL Pro-Choice Minnesota as a campus coordinator.
Did you know you were going to study Women's Studies when you started?
Initially I was going to be an English major with a creative writing focus. Then I was going to be a Communications Studies major. Then, on a whim, I took Foundations of Women's Studies. I kept creative writing and communications studies in the form of minors, but I was hooked. I took the introductory class and knew I needed to major in Women's Studies.
How did being a Women's Studies major influence other aspects of your time at Hamline?
As a Women's Studies major I had the opportunity to attend the National Women's Studies Association's annual conference during my junior and senior years. I had never before been to a large conference and I was in awe. There were so many women, so much energy, and so much movement. I wanted to be two places at once just to attend more panels, and I attended so many panels my head buzzed.
How has it translated into your work, so far, in Simmons' library science program?
Librarianship is about service. This means providing the highest level of service to all information seekers. Librarianship is about access – equitable access to all materials. Social responsibility, education, access, equality – all these are ideas from Women's Studies. Libraries have a social responsibility to inform and educate all people. Again, this is an idea that was present in my Women's Studies classes.
What courses have you taken so far at Simmons, and what's yet to come?
This semester I took Foundations of Library Science, Technology for Information Professionals, and Reference Services. Next semester I will be taking Cataloging, Principles of Management, Evaluation of Information Services, and Corporate Librarianship. Next year I intend to focus on special collections libraries.
What do you miss most about the women's studies program, if anything?
When I was studying at Hamline I was so entrenched in everything Women's Studies. I felt like I breathed, ate, and slept Feminism. At Simmons I am assessing Library of Congress subject headings for bias, exclusion, and systems of hierarchy. While the pillars of Women's Studies and Library Science are in many ways quite similar, the two studies feel very different. What I miss the most about Women's Studies is feeling that I was part of something so much larger than myself; I miss the overwhelming sense of urgency, the need to move, move, move with Feminism.
Where do you see yourself, professionally, personally, or otherwise, in the future? How involved is Women's Studies in that plan?
In a library! At the moment I am interested in special collections libraries, specifically law and corporate libraries. Though I can't say specifically how, I know absolutely Feminism will always be part of how I live. Women's Studies has shaped my worldview. Feminism is simply part of my identity.